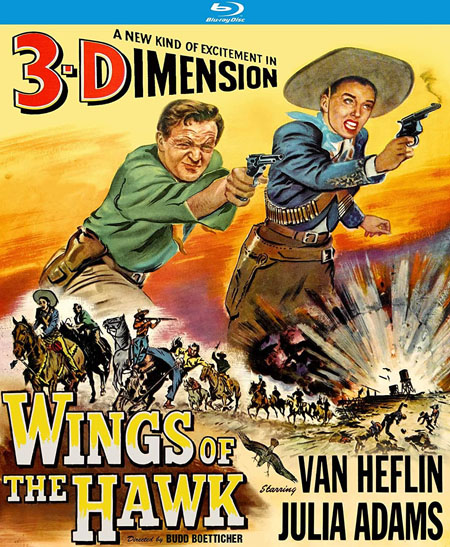 I've written before about cult-film director Budd Boetticher and the seven films he made with Randolph Scott that are universally recognized as some of the greatest westerns ever made. His film "Comanche Station" is in my opinion the best of the bunch, and was the inspiration for my novel "The Big Shut Down." Before he helmed the Scott westerns he had worked many years at several studios on low budget pictures, until securing a two-year, nine-picture deal with Universal-International. Among the films he made for UI were "The Man from the Alamo" starring Glenn Ford, and "Wings of the Hawk," starring Van Heflin and Julia Adams.
"Wings of the Hawk" is noteworthy for being only the second film to be shot in 3-D. Made just a few years before the Randolph Scott films you can see glimmers of the thematic elements that would later become the hallmarks of his best work: the idea that there are "some things a man can't ride around;" that men must face the truth about who they are and what they would and would not do; that who you are is determined by the choices you make. Boetticher's heroes are all men of stature. "Wings of the Hawk" shows Boetticher's ideas still in their gestation period before coming to full flower just a few yeas later.
You can read my full review of "Wings of the Hawk" on the Cinema Retro website.